Intelligent Clinical Chemistry for the Physician Office Lab
From the Market Leader in POL Chemistry Testing
ACE Axcel™, the next-generation clinical chemistry system from Alfa Wassermann, helps physicians quickly diagnose and effectively monitor patients, delivers a reliable revenue stream for business, and eases and streamlines procedures for laboratory personnel.

Cleared by the FDA specifically for use in POLs, ACE Axcel makes in-house chemistry testing fast, convenient and cost effective.


Effectively diagnose and manage:



| | | | |
| --- | --- | --- | --- |
| | Diabetes | | Metabolic syndrome |
| | Heart disease | | Anemia and more |


ACE Axcel clinical chemistry analyzer features the latest advances in instrument design, including:

Touch screen functionality
Intuitive user interface
Internet connectivity

ACE Axcel is easy-to-use and offers many advantages:

Liquid ready reagents
Single or panel testing... in any order, at any time
Requires no dedicated water system, special plumbing, or waste connections
Small instrument footprint
Learn more about ACE Axcel and take advantage of our special introductory offer: 1,000 FREE start-up reagent kits with the purchase of a system.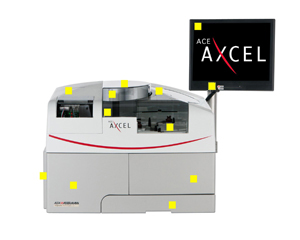 (mouse over yellow areas for details)